Robert
Jun 22, 2022
[]
[]
9 Comments
You have currently viewed 1 story this month.
IlliniBoard now offers two free stories per month, for more please subscribe.
I should put a sticky-note on my desk that says "whenever you get bogged down writing about one thing, write a golf article." Because it always clears out the cobwebs. I think I write about Illini football too much, Illini golf too little, and Illini basketball just enough. As a result, I'm always stretching my brain trying to extract more football words while the golf file is overflowing. Let's do something about that.
First, the bad: not making the NCAA's in 2022. It's the first time Illinois failed to make the NCAA's since failing to get through in May, 2007. A quick May 2007 list:
Skyy Clark was three years old.
No Country For Old Men premiered at the Cannes Film Festival.
AC Milan won the UEFA Champions League title, getting two goals from Filippo Inzaghi in the final to win 2-1 over Liverpool.
The series finale of The Sopranos left everyone wondering what happened at the very end.
Graham Pocic picked Illinois over Michigan, Penn State, and Florida.
Hollywood was all about making a third movie: the second week of May the #1 movie was Spider Man 3, then it was Shrek The Third, then it was Pirates Of The Caribbean 3, and then it was Oceans Thirteen.
If you turned on the radio you were under Rihanna's umbrella ella ella eh eh eh.
...and Mike Small's Illini golf team failed to make the NCAA Championships. They would make it in 2008 and then every single year after that (except for 2020 when it was canceled) until this May when a 7th-place finish at the New Haven regional meant that there would be no orange and blue at the NCAA Championships.
The streak was remarkable for the fact that there wasn't a hiccup between 2008 and 2021. Even dominant programs would have a year in there where they just didn't have it at the regional. This is golf, and you're going to have times where your best player has a case of the lefts but your worst player starts making everything from 20 feet and in. It usually balances out over three rounds, but sometimes it doesn't, and in New Haven in May, it didn't.
So now a new feeling for the offseason: the end of the streak. The only thing similar to this for Small's program was Minnesota winning the Big Ten Championship in 2014. His teams won the Big Ten from 2009 to 2013 and have now won every year since. But the 2014 team spent the offseason thinking about how they were the ones to end the streak.
What's that? What did they do the following year at the Big Ten Championships after spending the entire offseason thinking about not winning it? I'm glad you asked.
I remember being mad at that scoreboard because if someone just glanced at it they'd think that Illinois was +14 and Iowa was +18, with Illinois winning by four strokes. Nope. -14 and +18. Thirty-two strokes. Snap the streak by losing to Minnesota in 2014; start the new streak by beating Iowa by 32 strokes (and Minnesota by 43) the following year.
So there's our starting point for 2023. Get mad. Stare at the 7th-place regional finish all summer. And then make sure there's no way it happens next May.
Now, 2015 got a major boost from adding Nick Hardy and Dylan Meyer to the roster. Brian Campbell, Charlie Danielson, and Thomas Detry all returned, Jonathan Hauter graduated, and Meyer and Hardy ended up beating out David Kim and Alex Burge in 2015. So there was some lineup shifting (inserting two all-world freshmen) that led to the big push in 2015.
That doesn't appear to be the case for next season given that everyone returns. But it might be? Let's talk about it.
First off, we learned this spring that both Adrien Dumont de Chassart (ADdC) and Tommy Kuhl will use their Covid years to return for a Super Senior season. So that means the 2023 team returns the same five from New Haven. Advancing everyone forward a year, when the Illini tee it up in September during the fall season, this would be the lineup:
ADdC (5th)
Tommy Kuhl (5th)
Jerry Ji (SR)
Piercen Hunt (JR)
Jackson Buchanan (SO)
Just based on that, it's probably a top-12 team next season. At the end of this season, the Illini were 18th on Golfweek and 18th on Golfstat (which is why Illinois not being among the 30 teams to make the NCAA Championships was such a disappointment). Now, with everyone returning but many of the 17 teams in front of the Illini losing several players to graduation, I think 12th would be a good guess as to the fall ranking. But this roster has the potential to be even better than that.
I'm going to start tossing out a bunch of rankings now, so first, a glossary:
WAGR refers to the World Amateur Golf Rankings. It's a formula similar to the OWGR (Official World Golf Rankings). It's not some list put together by Prepstars.net where some guru ranks the top-500 amateur golfers in the world and says "I think this guy is 117th but this guy over here is 438th." It's a simple formula: you beat these guys but you didn't beat these guys. And then you qualified for this amateur tournament while all of these other guys failed to qualify. Put all of those numbers together (over years and years) and they'll tell you that John Rahm is going to be really good when he's a professional some day.
The numbers you see next to players' names when you look up golf scores (like the screencap above showing team rankings) come from Golfstat. They have their own formula (again, a simple "who did you beat/who beat you?" kind of thing).
Golfweek also produces individual player rankings for college golfers (and college golf teams) using the Sagarin ratings.
Golfweek also has a list of high school player rankings. They're probably less accurate than the college rankings (a kid who has been playing in junior tournaments since he was 6 is likely going to be ranked higher than someone who really came on as a golfer his sophomore year of high school), but it is a data point.
The AJGA (American Junior Golf Association) also has their own rankings. Again, another data point for players coming into the program.
The main ranking that I follow (of all of those) is the WAGR. You know this because you liked my "WAGR? What is that, a betting app?" joke five years ago. I've followed the WAGR rankings for at least 7-8 years so I feel like I have a pretty good idea of what they mean. 2018 when Dylan Meyer and Nick Hardy both climbed up into the top-15 (a rare occurrence for college golfers)? That meant they were close to Illini Golf Mt. Rushmore. When the 3rd, 4th, and 5th golfers are ranked between 500 and 800 (like 2019)? We'll still probably win the Big Ten but there's likely going to be a step back from "top-10 team" to "top-25 team".
I don't expect you to understand my methodology here. It would take me forever to explain it. Just know that I love this stuff, and I don't have a job now, and so when I'm sitting back here in the home office (world headquarters of IlliniBoard LLC) I'm flipping through the WAGR and the AJGA rankings trying to figure out where Illini golf might end up next May. Here's what I can tell you:
Getting ADdC and Kuhl back for one more year is huge. The reason the Illini made match play (top-8) in 2021 was the return of Michael Feagles and Gio Tadiotto for one more year. Despite the disappointment of the whiff in 2022, the reason Illini golf can talk about match play in 2023 is the return of these two guys for Super Senior seasons. Here's where they landed rankings-wise at the end of this season (and these are the 2022 numbers so bump everyone up 30% because this ranking includes a bunch of seniors from this past season who just graduated):
Tommy Kuhl - 103 on Golfstat, 99 on Golfweek, 183 on WAGR
ADdC - 13 on Golfstat, 15 on Golfweek, 18 on WAGR
Remember, the first two are college golfers only, the last ranking is every amateur in the world. The WAGR includes a lot of international amateurs who don't play college golf in America. The top golfer on the list, Keita Nakajima from Japan, is simply playing in tournaments as an amateur before likely turning professional in the next year.
ADdC just jumped up to 18 after qualifying for (and finishing ahead of several other amateurs at) the US Open. It has been since 2018 that Illini golf had a top-25 golfer in the WAGR. I looked up the numbers from the 2019 season and the top two Illini golfers were #72 and #267 in the WAGR with everyone else 400+. Having ADdC at 18 now is Thomas Pieters/Nick Hardy territory.
But having Kuhl climb up to 183 (and being ranked around 100 last season in the college rankings) is a big deal as well. Remove all of the seniors and the just-turned-professionals from those college lists and he likely begins next season as maybe the 65th-best college golfer. If you've followed Illini golf scores on line before, you know that the players with the little number next to their name usually gravitate towards the top of the leaderboard. I'm guessing Kuhl start's next season with a 65 next to his name.
He's not the second-highest player on the WAGR, though. That distinction belongs to Jerry Ji:
Jerry Ji - NR on Golfstat Top-250, 300 on Golfweek, 81 on WAGR
Hold on a second, you say. Kuhl is 183 on the WAGR but 103 and 99 in the college rankings (WAGR number will be higher with all of the other amateurs around the world included) but Ji is 81 on WAGR yet unranked on one college list and #300 on the other? Yes. Let's talk about Ji's injury.
Jerry Ji was dealing with a shoulder injury all season. He had climbed to as high as 53 in the WAGR after his sophomore season (and was well inside the top-100 on Golfstat and Golfweek). But this injury was a major setback for his junior season. Again, these college rankings are just a formula of who you beat and who you lost to at the tournaments you played, and his results in 2022 meant that he fell out of the top-250 on the Golfstat list and fell to #300 on the Golfweek list.
That doesn't change much on your WAGR rankings, though, which tracks your entire amateur career (including who you beat at some youth tournament in Germany when you were 16). His overall body of work has him 81st overall among amateur golfers in the world. He was as high as 53, fell out of the top-100 this year, and is now back to 81st with the bump everyone got from a bunch of amateurs turning professional this month.
The Ji questions for next season obviously rest on "is his shoulder 100%?". Once that shoulder is completely healed, can he return to form? If so, he's a top-50 player in college golf. If not, he could get chased out of the lineup. More on that in a bit - let's move on to the next guy.
Piercen Hunt - 142 on Golfstat, 134 on Golfweek, 194 on WAGR
This is where you remember that I pointed out that the 2019 team WAGR rankings for the Illini went #72, #267, and then 500-something, 600-something, and 800-something. We've gotten through four players for next season so far and the WAGR numbers are 18, 81, 183, & 194. This is much closer to those mid-2010's teams.
I think I've told the story before that I took a golf trip to Sand Valley in Wisconsin in 2020 and my caddy saw my Illini gear and said "Illinois? That's where Piercen Hunt went. Kid's going to be a superstar." He went on and on about how Hunt had 'it' and was going to be a college golf superstar sooner rather than later. I, obviously, took this anecdote to be 100% fact.
And last fall it looked like the caddy's prediction was becoming true early in Hunt's sophomore season. He finished 4th in a stacked field at the Blessings Intercollegiate in Arkansas and then won a few weeks later against a stacked field at Isleworth. This sent expectations for this spring through the roof.
During this spring season he was.. perfectly fine for a sophomore golfer. Around the 135th-best in college golf. No breakout season, but not some awful season either. Somewhere right in line with sophomore expectations. Next up: take a step forward as a junior.
And now this season's big freshman surprise.
Jackson Buchanan - NR on Golfstat Top-250, 378 on Golfweek, 321 on WAGR
Just a huge surprise. Buchanan barely had any counting events in the WAGR and wasn't on any of the high school recruiting lists I look at. And then he grabs the 5th spot this season as a true freshman and, by the end of the season, was the 3rd or 4th guy. Basketball comp: Giorgi, unranked and unknown, coming out of nowhere his freshman season.
Buchanan will still be just a sophomore, so there are likely hills and valleys ahead. But his freshman season was an absolute success. We won the Big Ten title by one stroke because of his birdie on the final hole the final day.
These are not the only options, though. Yes, college golf is "the top 4 scores from your 5 guys", but there are others who might break into the starting five. If Ji's shoulder isn't fully back, or if Buchanan goes through a sophomore slump, there are other options. Starting with the transfer from Southern Illinois:
Matthis Besard - 170 on Golfstat, 123 on Golfweek, 205 on WAGR
Yes, if you didn't hear, we added a (Belgian) transfer from SIU who was 123rd in the Golfweek rankings this season. So if I list that Golfweek ranking with the rest of the rankings we just covered...
ADdC - 15
Kuhl - 99
Besard - 123
Hunt - 134
Ji - 300
Buchanan - 378
It's golf, so you never know what's going to happen. We thought West Virginia transfer Nico Lang would be right in the heart of this lineup but he's never broken through. With the top five returning from 2022, it's possible Besard doesn't crack the lineup in 2023. But it's also possible he's our second or third-best player next season.
You probably need some comps here, right? Those rankings don't mean much without context. I'll compare those rankings with another Big Ten program and then I'll compare them with a nationally dominant program.
Purdue had its best season in a decade this past year. They finished 28th in the Golfweek team rankings. They had three seniors, so they're going to fall off a lot next season, but here are the final Golfweek rankings for the five players who got them to 28th nationally this past season:
Senke - 64
Weiler - 112
Bradley - 172
Farraye - 417
Dentino - 551
That's good for 28th in 2022. Now let's project the Golfweek numbers for Illinois in 2023. Kuhl is 99 in the 2022 rankings, but a whole bunch of players in front of him won't return for the 2023 season. So let's just bump everyone by 30% or so. I'm also going to return Ji to his sophomore ranking (around 75th nationally) and pretend like his injury-riddled junior year didn't exist.
Here's how the Illini rankings might look next May:
ADdC - 11
Kuhl - 64
Ji - 75
Besard - 80
Hunt - 94
So that's a good comparison there, I think. The best Purdue team in 10 years: 64, 112, 172, 417, and 551, good for 28th-best nationally. The Illini next season (and this doesn't even include Buchanan): 11, 64, 75, 80, 94. Good for??
I should note - that's not going to be #1 in the rankings or something. Texas just won the national title. Here's the rankings of those five guys this season:
Pi. Coody - 10
Vick - 14
Hammer - 22
Pa. Coody - 50
Nome - 74
So yes, there's a tier above what I'm talking about with Illini golf next season. If we do end up with five top-100 players, yes, that's really encouraging, but Texas had three in the top-22 and four in the top-50. That's another level.
And again, it's college golf so expectations don't always match results. Bo Jin finished 2nd at the NCAA Championships in 2021 for Oklahoma State and was supposed to be the top college golfer in 2022. He had a rough season and finished 115th in the Golfweek rankings. Some guys find it, some guys lose it. Anyone who has ever played the sport knows this.
Which means that the five guys Mike Small sends out at next year's NCAA Regional might not even come from the six names above. He might have one or two guys lose it while someone listed below finds it. Someone like...
Nico Lang - The West Virginia transfer I mentioned above (transferred to Illinois in the summer of 2020). He is currently #1083 in the WAGR, but in 2020 he was ranked as high as 330th (right around where Buchanan is ranked today). Could Lang find it again?
Dylan Keating - Sophomore-to-be from Ireland who got a start at the Blessings Intercollegiate last fall. He was eventually passed by Buchanan but was maybe the top recruit in the 2021 class.
TJ Barger - Sophomore-to-be from Bloomington. Stroke average this season was 75.92 (just edging out Keating's 76.13 and trailing Lang's 75.21). The target for cracking into the lineup is probably 72.5 or so, which means there's work to do. Still, this was just his freshman year.
Ryan Voois - He's the one incoming freshman this fall. From California. This is where I use the Golfweek rankings for junior golfers (plus the AJGA rankings) to determine what kind of player we have coming in. Sorting by the 2022 class (lists like that usually list all golfers ages 13-18), Voois is 49th in the AJGA rankings (132 among all junior golfers in all classes) and 33rd in the Golfweek 2022 rankings (113th overall). Given the five returning starters, it's doubtful he could crack this lineup, but nobody expected Jackson Buchanan to be in the lineup as a true freshman either.
Maybe I should link the stats here. Given the discrepancy in stroke averages this season, it's not likely any of those guys crack the main rotation next year. Here's the stroke averages for the full team (screenshot of the media guide):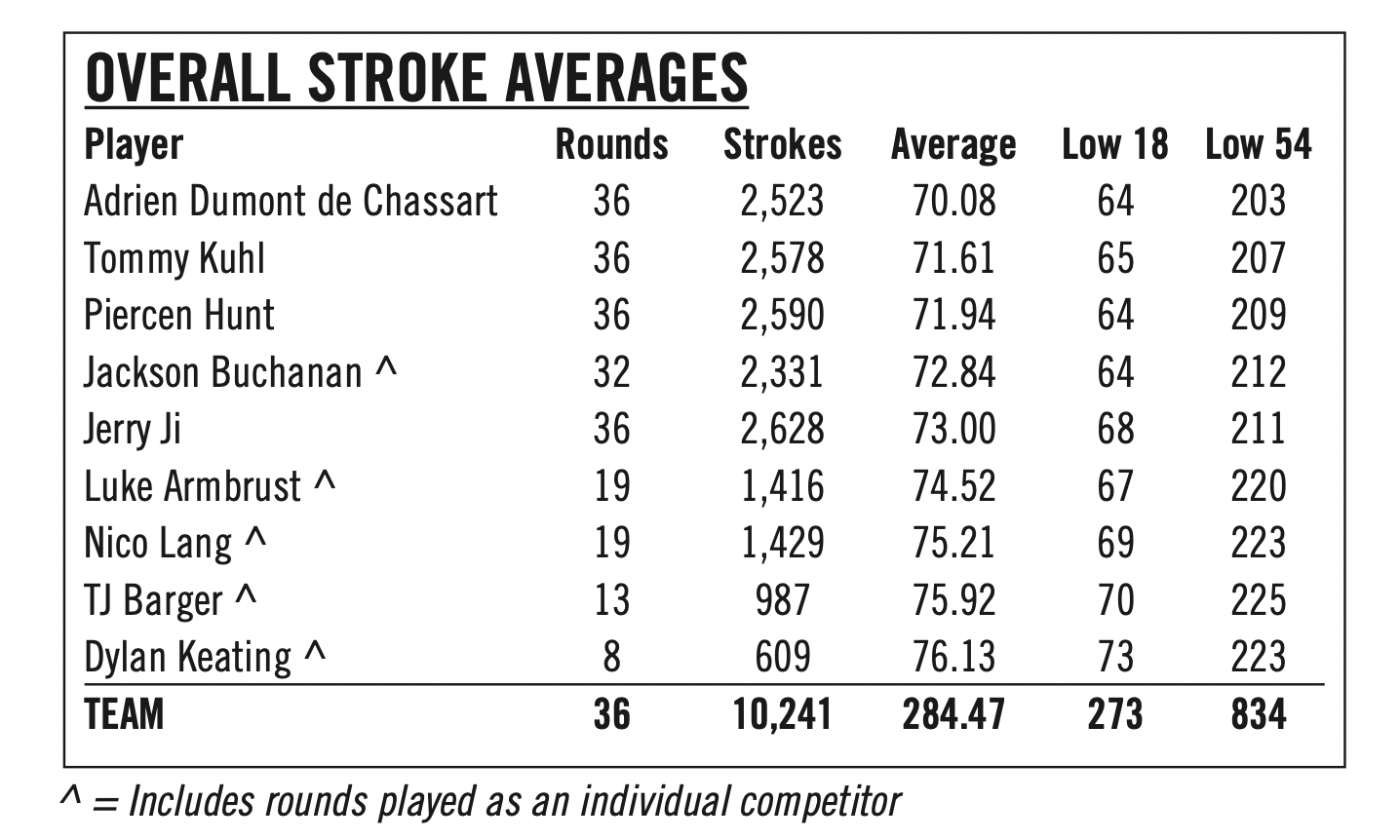 Luke Armbrust graduated, so the gap to notice there is between Ji (73.0) and Lang (75.21). If Ji rebounds to his sophomore form (71.29 stroke average), then one of those guys is going to have to boost their stroke average by 2.5 or 3 strokes to even challenge one of the starters. That's a big ask.
Which is why, for now, this sets up as a 6-for-5 kind of thing. Take the five guys from this past season (ADdC, Kuhl, Hunt, Ji, and Buchanan), add the SIU transfer (Besard), and find your best five. My guess is that you'll see the lineup change week to week in the spring until a final five is decided for the Big Ten Championships and the NCAA Regionals. This past season, when Ji was hurting, it would have been nice to have a sixth guy right there ready to take over. That's the role Besard might play this season (unless he's, you know, our best player or something).
One last thing: the 2023 verbal. Max Herendeen (from the state of Washington) made waves a few weeks ago by nearly qualifying for the US Open as a high school junior. You play 36 holes to qualify, and at the Bend, Oregon qualifying spot, he was in first after the 1st round before a 73 in the second round meant that he missed a qualifying spot by 2 shots. Still, a 16 year-old playing that well in a US Open qualifier is incredible.
And his junior ranking reflects it. In the AJGA rankings he's 29th on the 2023 list (68th overall). In the Golfweek rankings, he's 12th in 2023 (44th overall). One more time even though I've said it 100 times by now: these rankings are ten times more accurate than college basketball top-100 lists. It's an individual sport. These kids play in national and international tournaments. Where they finish in relation to each other = these rankings. And these rankings (plus the US Open qualifier thing) say that Max Herendeen might be Mike Small's best recruit in several years.
He doesn't arrive until the fall of 2023, though. For now, we're talking about fall 2022/spring 2023. And I think we've covered everything. Bottom line, it needs to be a Virginia Basketball 2018/Virginia Basketball 2019 situation.
Heartbreak in 2022 and the first time missing NCAA's since Oceans Thirteen.
A massive bounce-back in 2023 and another run at match play.