The 90 Illini #74: Nick Fedanzo
Robert
Jun 15, 2022
[]
[]
0 Comments
You have currently viewed 1 story this month.
IlliniBoard now offers two free stories per month, for more please subscribe.
Our first non-freshman. Never a distinction that a player wants to earn I guess, but with the depth of the running back room, a lot of the tailbacks are going to be pushed 15-20 spots lower on this list than they typically would be. Nick Fedanzo is one such casualty. The sophomore tailback is battling with:
Chase Brown, a 1,000-yard rusher last season.
Josh McCray who racked up 549 yards last season. For some perspective on that, Reggie Corbin was the leading rusher on the 2019 team (a bowl team) and Corbin led the team with 675 yards that year. McCray picking up 549 yards as a freshman is a big deal.
Chase Hayden, a former 4-star recruit for Bret Bielema at Arkansas.
Reggie Love, the highest rated recruit in the 2020 class (offers from Notre Dame, Penn State, Tennessee, Nebraska, Iowa, and many others).
Aidan Laughery who, I was surprised to learn, ended up as the highest-rated recruit in the 2022 class (per the final 247 Composite rankings).
Jordan Anderson who we just discussed a few days ago.
That's just a really tough rotation to crack. It's why Jakari Norwood transferred to Temple (where I think he will surprise some people). And it's what puts Fedanzo down here at...
74. Nick Fedanzo
Running Back
Uniform number: 24
Year in school: Redshirt Sophomore (without the Covid waiver, 2 years to play 2; with the Covid waiver, technically 3 years to play 3)
Height: 6'-0" -- Weight: 205 lbs.
Hometown: Lombard, Illinois
High School: Montini Catholic HS
Five best offers: Air Force, Kent State, Ball State, South Dakota State, Western Illinois
Tom Cruise rating:
Background
This is now his fourth season in Champaign (even though he's still just a sophomore because of the Covid waiver). He did get in seven games in 2020 (mostly special teams), but last season his bio shows 0 games played.
Even back when he committed there were discussions of a possible position change. We've seen a lot of "running back in high school - linebacker in college" positions switches in the past. But he's stayed with the tailbacks throughout his time in Champaign.
2022 Outlook
I'll just say it. As "I watch college football like my son is on the team" guy, I'm kinda mad that he's only in the background of this photo: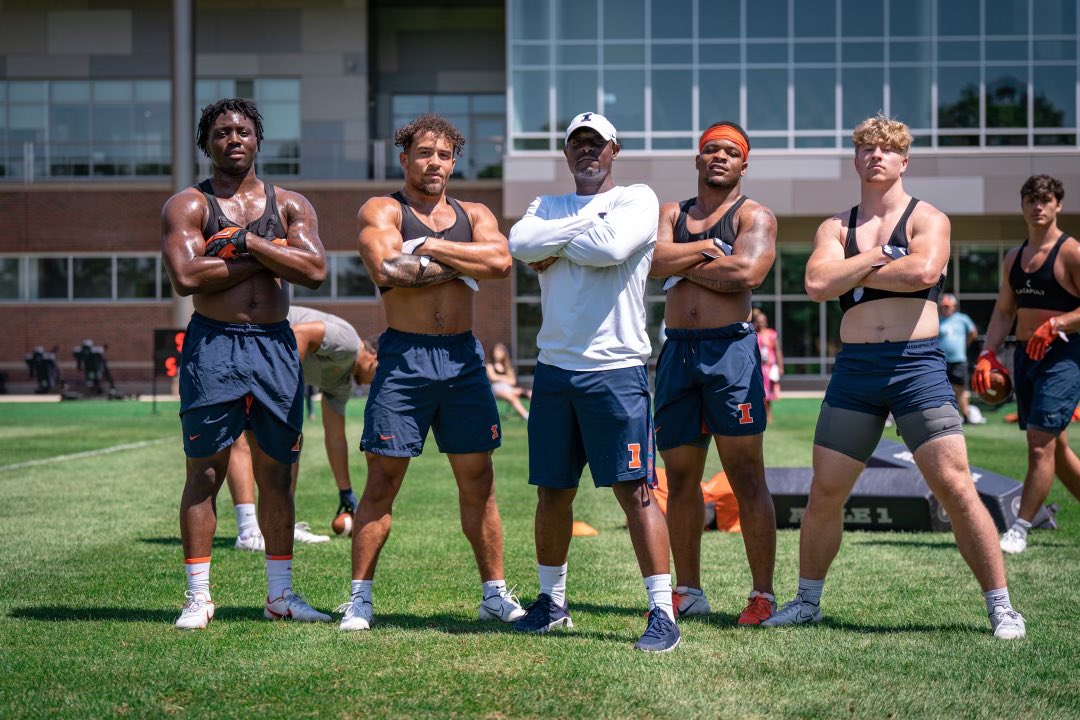 Sure, those four (McCray, Brown, Love, and Laughery) might very will be the four tailbacks in the rotation this fall. And Fedanzo has a ball in his hands, so he likely just competed whatever drill they were running while the four guys who had already finished the drill took a photo with their position coach. But still...
But again, I'm just that guy. If I was a little league coach, I would make sure everyone got a plate appearance (and lose a lot of games by putting the worst kid in at shortstop just so he could tell his friends he played shortstop). And so when I see that photo, I want Nick to be in the picture with his friends.
(Also, no, those aren't sports bras. They're Catapult vests that track your performance metrics. Things like "after making that cut he was running down the sideline at 19.3 mph.")
So yes, I have that tweet saved. And if Fedanzo makes the rotation this fall, I'm gonna tweet it saying something like "should have included him in the picture, guys."
(And then someone will say to me "should have had him higher than 74 in The 90 Illini, Robert.")