Check The Tape - Virginia (Subtitle: TACKLING)
Robert
Sep 15, 2021
[]
[]
14 Comments
You have currently viewed 1 story this month.
IlliniBoard now offers two free stories per month, for more please subscribe.
There wasn't as much tape to check this week. Mostly because the game was on the ACC Network. I don't get the ACC Network (and even if I did, I'm not sure they put full games online), so I was left checking the tape by watching the 26-minute "condensed highlights" package that the ACC Network put on YouTube. If you'd like to watch the whole thing, you can do that here.
Some of the notes I jotted down ("CTT: 4:43 left in second quarter") were skipped on the condensed highlights, so I decided to go in a different direction with this one. I'll go through and gif every tackling issue that was shown in this highlight package. This isn't every bad tackle in the game, but it's all I could capture. And it gives me enough to make my point.
And my point isn't really "we can't tackle!", nor is it "this staff didn't prepare the team!" or anything like that. Let's just start with Bret Bielema's answer to my tackling question yesterday and then we'll go from there.
I agree with nearly all of that. The NCAA practice reductions that were approved in May had to be horrible news for any brand new coaching staff. Not only were preseason practices reduced, their full-pad practices were reduced as well. And only two scrimmages are allowed. This is on top of other practice restrictions put in place the last decade or so. Not only are the old days of Ron Zook running two-a-days in Rantoul a thing of the past, the total practice time has been significantly reduced as well.
If you're not familiar with the practice restrictions, it's something that was implemented back in May by the NCAA. Here's the list of changes that began this August:
The modifications were informed by a number of data points that suggest the preseason practice period may lead to a disproportionate amount of concussions and head impact exposure, including, among others, information from NCAA member conferences, the NCAA injury surveillance program and the NCAA-Department of Defense Concussion Assessment, Research and Education Consortium. The changes include:

Prohibiting athletic activities, such as drills that encourage or create straight-line contact, as specified in policies and procedures established and maintained by the Division I Football Oversight Committee and the NCAA Committee on Competitive Safeguards and Medical Aspects of Sports. This prohibition applies year-round, not just during the preseason.
Reducing the maximum number of contact practices from 21 to 18 and restricting full-pads days to nine.
Increasing the acclimatization period from five to seven days.
Additional limits on full-contact practices, including no more than two consecutive days of full-contact practices, a total of no more than 75 minutes of full contact within any practice session and no more than two scrimmages in the preseason.
I get it, and this has been a long time coming. And all teams have to follow the same guidelines, so all teams are limited on the amount of practice that can be dedicated to live tackling. But with a Virginia staff over here with schemes fully installed for six years and an Illinois staff over here using (only) 18 practices to install everything AND prep for the opener AND practice fundamentals, well, big advantage Virginia. And, for that matter, Nebraska.
Ask any coach and they'll tell you that 18 practices, nine days in full pads, and two scrimmages makes first-year scheme implementation so difficult. Lots of stuff falls by the wayside. Including, maybe... tackling?
Let's just get to the clips.
Tackle. The Guy. With The Ball.
I think these are all in order. First one:
A missed tackle isn't just "had his hands on him and didn't bring him down". It's also "had an angle at him and didn't stop him". In this clip, both Owen Carney and Jake Hansen have a chance at a sack. Carney had a clean path, so no excuse there, but Hansen did have to fight off a block from the tailback. Still, Jake got two hands on Armstrong's foot but just couldn't bring him down. Instead of second down and long, it's first down for Virginia inside our 30.
And then two plays later...
Yes, that guy was a monster. And if Brown makes the tackle, it's still first and goal from the three. They were probably going to score. But still, he caught it at the nine. And Syd was right there. And he just surfed his hips for a bit while the guy ran into the endzone.
Also, watch it again and just watch Tony Adams. Looked like he was going to join in on the tackle and then he flinched. Wonder what the flinch was about. Need to attack the ball there.
This next one - this next one is all effort. Fourth down and one, Virginia goes for it, Jake Hansen gets the wrap-up just short of the line to gain, and then...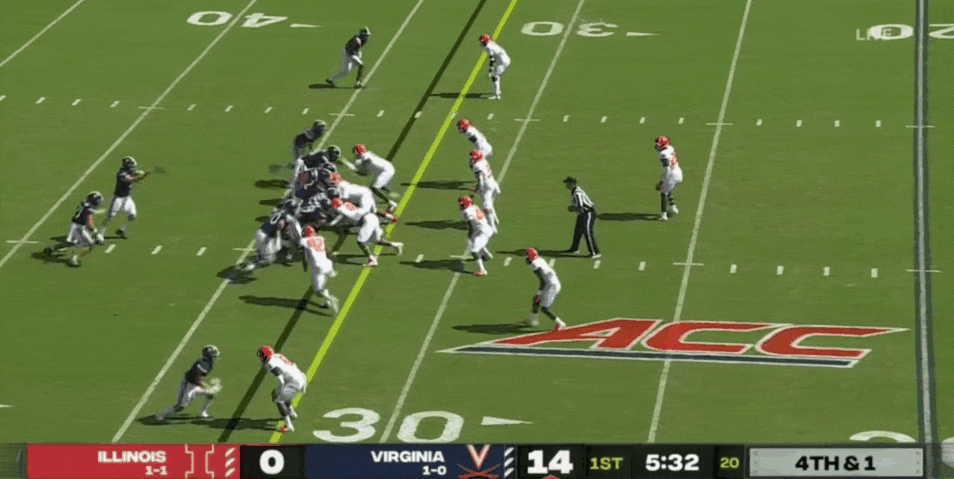 It is not Hansen's effort I'm questioning there. He got the wrap up but neither player is on the field yet. Which means the first down will be decided by the next player to get to the pile. And here, the first down is picked up by the player who killed us all game - Jelani Woods (#0, the massive tight end).
Go watch the clip a few more times. Don't watch the ball. Simply concentrate on the one-on-one battle between Owen Carney (99) and Jalani Woods (0). You're going to want to watch the ball as soon as the tailback comes into view. Don't. Just watch Carney vs. Woods.
Carney and Woods battle each other for two seconds. Then they release their scrum because the ball has passed them. And then Woods gets to the pile first, pushes forward, and gets the fourth-down conversion all on his own.
Now watch it again and watch Isaiah Gay on the near side (#92). Reaches for the ballcarrier. Misses him. And then stands and watches. Maybe he couldn't have gotten to the pile to help Hansen pull him back. Jelani Woods got there fairly quickly. But if Carney is still engaged with Woods, then maybe Gay could have joined Hansen in bringing down the ballcarrier.
That's football right there. More than any other sport (in my opinion), effort matters. 11 guys on the field, and if two of them take it easy, a fourth-down stop turns into a fourth down conversion.
Let's move on. This is the one that had you yelling "oh come on" at your television screen:
Five yards of surge after contact. You hate to see it. I want to just move on.
Here's one where "hit him" instead of "tackle him" adds eight more yards.
I understand the hammer tackle. 5'-9" receiver with the ball - strike him hard and knock him down. But on this play, the contact is at the 50 and he still gets eight more yards.
I made two screencaps of the endzone replay of that play. This is where Tony Adams makes contact (just shy of the 50 yard-line):
And this is where the tailback finally hits the turf (just shy of the 40 yard line):
Those 10 yards are really important. That's an entire first down that isn't required because he wasn't stopped in his tracks.
What does "stopped in his tracks" look like? I'm glad you asked. Here's a Virginia tackle in the second quarter:
I know that the two tackles aren't exactly the same. Adams needed to stop a WR with a full head of steam cutting it up inside. In this Virginia example, Chase Brown came to a stop and tried to hop back inside. Still, go click on the 26-minute video above and watch the entire thing. Virginia tackled very well. Illinois did not.
I mean, this is a similar "grab his feet and drop him" opportunity, and we missed it:
That's only five yards lost, but still, five yards is five yards.
And then there's this. When you saw that this post was titled "tackling", this is the play you were thinking about:
Believe you me - Jake Hansen is still thinking about this play. Just watch him at the very end of the gif. He grabs his head and drops to the ground. He's more upset about this missed tackle than you are. Probably ten times, knowing Jake.
But that was the entire game, right? It was this same thing over and over. Effort plays from Virginia, micro-mistakes from Illinois.
I'll show you one more. This is the Hansen forced fumble (more like a rip-out). But he was only able to rip the ball out because we just couldn't get the tailback to the ground. If this play didn't end in a fumble, you'd be having the same "oh come on" reaction as you did above.
Practice is tonight as they get ready for a night game against Maryland. I'm certain this will be the entire practice. The guy with the ball? Get him on the ground. Immediately.
Bad Spot Of The Week
It's basically a weekly feature at this point. My personal crusade against "let's make the game easier by spotting the ball at the closest hash".
This was called a first down:
It offends every ounce of my precision sensibilities. If the ball went out at the 48 yard-line plus 17 inches, MARK THE BALL RIGHT THERE. This whole "probably closer to the 48 than the 49, let's just mark it at the 48" thing just drives me insane.
What's next? As long as a player got close to the goal line, he crossed the goal line?
Perfect Pass
I tweeted about Brennan Armstrong during the game, wondering why he wasn't on my radar before this game. I got some of the typical BECAUSE WE MAKE EVERY QUARTERBACK LOOK GOOD responses. Well, sure, when you have a lot of time to throw, you can make some great throws.
But something like this? This is a quarterback throwing the ball 33 yards down the field and hitting a beer can sitting on a barstool. This throw is perfect.
Decent coverage, requires a perfect pass, and Armstrong puts it right there. Completely in stride. Doesn't have to slow down, doesn't have to jump - runs to a spot and the ball is delivered in a catchable location.
Kid is good. There are starting quarterbacks in college who couldn't make that throw in practice with no one rushing the passer. And he made like 10 of these.
And I Owe It All To You
One more thing. And I apologize in advance.
Every time I see a QB force his lineman to lift him in the air, this is what I hear in my head: