The 90 Illini #28: Seth Coleman
Robert
Aug 2, 2021
[]
[]
1 Comments
You have currently viewed 1 story this month.
IlliniBoard now offers two free stories per month, for more please subscribe.
Our son and his wife are currently boarding their airplane. There's a 20-minute window where the media can watch practice today (individual drills with position coaches) and I'm headed there in 20 minutes. This is essentially the end of offseason for me. Between now and the spring game in late April, no days off. Football camp ~> football season ~> basketball season ~> BTT/NCAA Tournament ~> spring ball/spring game ~> May/July/July offseason again.
And I got my fill this May-June-July. Three trips to St. Louis, two trips to the Lake of the Ozarks (because you can take the kid out of Missouri but you can't take The Lake out of the kid), a trip to Oregon for a wedding, a trip to Florida, and a weekend with all of our kids here in Champaign.
I promise that this post will at some point be about Seth Coleman but let me just say one more thing first. Even though I love Champaign and have wanted to move back here for years, 25 years in St. Louis before that move means there's gonna be a lot of homesickness. Especially since we moved here in the first few weeks of Covid quarantine.
So to have all of our boys, two of their wives, and one of their babies here this weekend was as fill-the-tank as anything we've done since having them all here at Christmas. I took this photo as we left brunch in downtown Champaign yesterday. Parents of adult children will understand. Having the whole flock in front of you - all of them grown and living their lives and sharing a weekend of it with you - man, it doesn't get much better. I cannot tell you what this photo does for my soul.
SQUAD.
Now I'll talk about Seth Coleman.
28. Seth Coleman
Defensive End
Uniform number: 49
Year in school: Redshirt Freshman (without the Covid waiver, 3 years to play 3; with the Covid waiver, technically 4 years to play 4)
Height: 6'-5" -- Weight: 230 lbs.
Hometown: Melbourne, Florida
High School: Holy Trinity Episcopal Academy
Five best offers: Nebraska, TCU, Utah, Baylor, Pitt
Tom Cruise rating:
2020 statistics: Played in all 8 games, starting 4. 13 tackles, 3.5 TFL's.
Background
First off, please note that I used my once-per-year exception to re-grade Seth Coleman on signing day in 2019. When he committed, having missed his junior year of HS, he basically had no film. After his senior year film came out the following winter, I upgraded him to 3 Cruises. I wrote about it in the Signing Day Summary that year.
Coleman had a nice little season last year, but I don't think anyone noticed. I'd say the 2020 season was the least-paid-attention-to season in Illini history. After the complete destruction at the hands of Wisconsin the opening weekend (an opening weekend in late October with no fans), followed by the positive Covid tests and the 4th-string-QB Purdue and Minnesota games, the vast majority of the fanbase completely checked out. By the Penn State game (after Lovie was fired), barely anyone was paying attention.
Which is why I'm not sure if people will remember that Seth Coleman started four games last year. Isaiah Gay went to the bench and Coleman won the starting spot opposite Owen Carney. There's been a lot of talk from the new staff about their two seasons (Carney and Gay), so it looks like, at least in the spring, those are the two guys they like at the new OLB spots. But over here is Seth Coleman, winner of one of those spots last season as a freshman.
Now he's a freshman again (for the third time). Played in 3 games in 2019 and redshirted. Played in all 8 games last season but it didn't count. So if he sticks around for four more seasons and we go to bowls in two of those four years, that's 61 games he'll play in. Already has 11 under his belt and he's about to start his freshman season.
2021 Outlook
I asked OLB coach Kevin Kane about Coleman this spring and he said he's the "prototypical athlete" that they're looking for at that position. They want part linebacker, part defensive end. Be able to rush the passer, but also be able to drop into coverage from time to time. So you have to be able to run. Seth Coleman can run. Yes, I'm going to link the same gif from high school again for the 93rd time: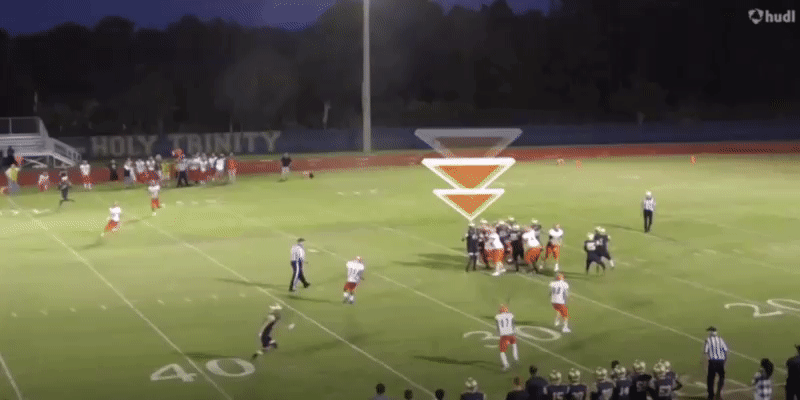 6'-5" and runs like that? Yes, that's the prototypical athlete for the OLB spot in this defense. Even knocks the ball out at the end.
I feel like Coleman will almost certainly be one of the starters at OLB in 2022, 2023, and 2024. The question now: will he maybe beat out Gay again and be the starter there this season?