Check The Tape - Penn State 2021
Robert
Oct 29, 2021
[]
[]
9 Comments
You have currently viewed 1 story this month.
IlliniBoard now offers two free stories per month, for more please subscribe.
I'm basically the dumbest idiot ever. I've now been working on this article for nearly three days. What good is an article - any article - if it's published four days late? Why make it so large that it takes three full days to complete? When not just make it half the size? (Which, shockingly, is an article that could be written in half the time.)
I don't have an answer for any of that. All I can say is that I'm watching the game and grabbing a gif and I'm watching the game and making some screencaps and then I look at the clock and I've wasted an entire day and I'm still not anywhere close to starting to edit the screencaps, let alone write the article. But I promised that this place would be "my personal fan experience lived out loud", and this is my fan experience. Watching every part of this game, unable to get enough of it.
Let's get right into it before I write 1,000 useless words about some random moment from Saturday.
Barge Is In Charge
We begin with the Barge Package. Seven offensive linemen, two tight ends, zero wide receivers, one quarterback and one tailback. I really did laugh out loud when flipping through the official stats:
Flipping through the book again and I laughed out loud.

Starting offense yesterday: pic.twitter.com/NmSfoWMrT0

— Robert Rosenthal (@ALionEye) October 24, 2021
So for those nine guys up front, how were they aligned? Here's how it was arranged:
A tight end on each end - Tip Reiman on the weak side and Luke Ford on the strong side. "Strong" meaning "more guys on that side of the center than the other side of the center."
It's worth noting that the two extra offensive linemen are on the same side. Start with Doug Kramer at center there. Then there's a guard on either side of him (Palcho, who was moved to guard last week, and Badovinac). Then there's a tackle on either side of those guys (Pearl and Barlev). And then the two extra linemen - starting left tackle Vederian Lowe and the guy who took over for Lowe when he was injured in the second quarter, Alex Pihlstrom - are both outside of Julian Pearl.
I spent a lot of time studying this over the last few days. It's interesting to me that the line flips strong/weak for a play like this. Meaning, Jack Badovinac played most of the game at left guard. But in the Barge package, when they go heavy to the left side, he's on the right side of Doug Kramer, not the left.
Remember the old Paul Petrino strong/weak thing? Which was the same as the Garrick McGee strong/weak thing? Those offenses didn't have left tackles and right tackles. It all depended on the play call. The strong side was usually on the right side, but when it was on the left, they'd flip the line and the tackles and guards would switch sides. That's kind of like this. At times, the Barge Package would go strongside left (like this) and when that happened, the interior line flipped.
The other difference is that freshman Zach Barlev would come in and go to Vederian Lowe's spot while Vederian would flip over to outside-outside strongside tackle. And then Alex Pihlstrom would go to outside strongside tackle. I will now refer to these positions as OST and OOST.
Anyway, that's the Barge Package. Now let's talk about the game.
Just Like They Drew It Up
It was obvious that Bret Bielema's coaching staff saw something on film last week. After being held to 26 rushing yards against Wisconsin, they saw a weakness in Penn State's run defense and figured they could exploit it. They did, to the tune of 357 rushing yards. As I said on the podcast with Martin O'Donnell, I'm choosing to refer to these 357 rushing yards as 357 Magnum.
Here's an example of the scheme chewing up the Penn State defense. This is the formation as they approach the line of scrimmage. There's no Barge Package here - just five linemen plus a tight end.
OK, pay attention to the Penn State linebackers here. As Isaiah Williams starts in motion, they all shuffle to the right a little bit.
Then, when Williams reverses course and goes in motion back to the right, they all significantly shift to the left. This is a formation where Sitkowski could snap it and immediately hand to Williams and the MLB and the OLB need to shift that way in case Williams gets the ball. He doesn't, but they're effectively moved out of the way for what's coming.
First thing to look at in the next screencap: the two linebackers who slid with Williams. Look how far they are outside the tackle box. This essentially leaves one linebacker in the middle (circled in red) and there are two offensive linemen pulling around (Doug Kramer and Jack Badovinac). This play sets up PERFECTLY here.
Man, this is just perfection. First puller (Jack Badovinac, orange arrow) pins the only linebacker who remained inside and now Chase Brown has Donny blocking well out front, Doug Kramer in front of him, and the entire front seven already blocked out of the play. Borderline erotic.
Which means this play is now decided by Doug Kramer vs. Penn State safety Ji'Ayir Brown.
Guess who wins that battle? Please note that in the image above, Kramer and Brown are at the 46. In the image below, they're at the 38.
And by the time Brown is tackled, he's gained 19 yards.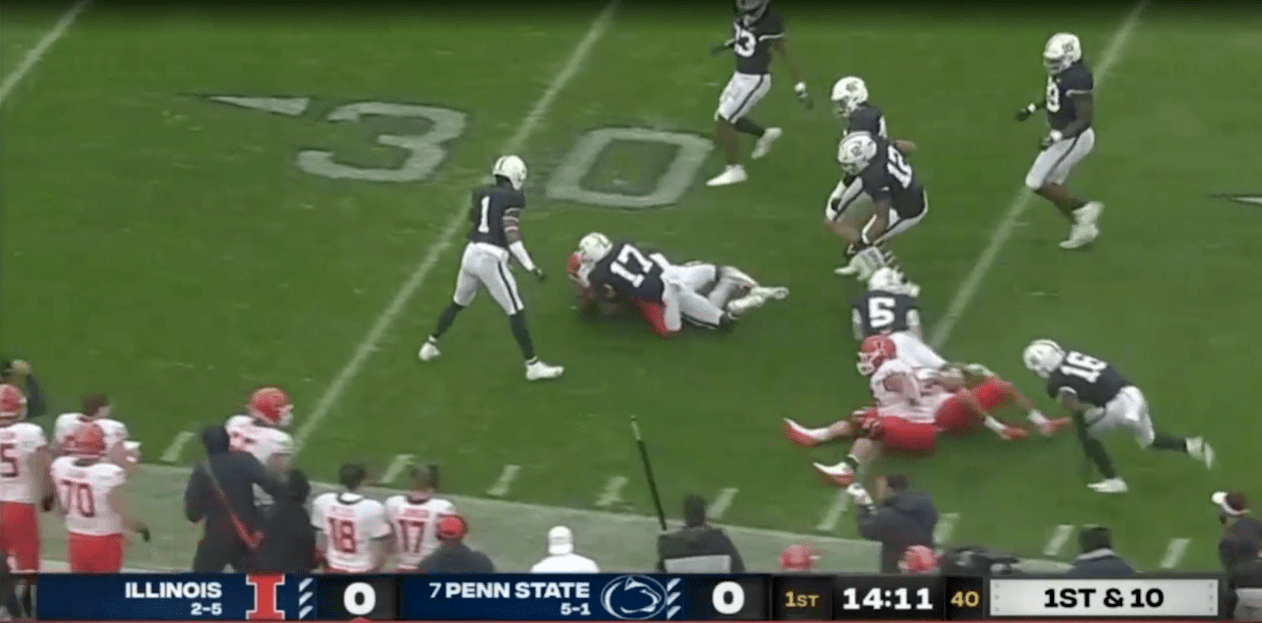 This play is so good we need to watch it from two angles. Here's everything you just saw:
First rewatch: just watch Kramer pull around, engage Ji'Ayir Brown at the 46, and drive him to the 37. Use the second, third, and fourth rewatch to see that over and over again.
Fifth rewatch: see that Badovinac doesn't even need to block the linebacker. With Badovinac sealing the corner, the 'backer's only shot is to try to duck inside the block and get to Chase Brown in the backfield. He fails.
And then go watch it from this angle:
We're gonna miss Doug Kramer.
Oh Yeah? Well We Can Do That Too
As mentioned above, Illinois opened the game in the Barge Package. That drive ended with Sitkowski throwing the interception, and when Penn State got to their first third-and-two, they sent their own barge out on the field. Not really a Barge Package, but a "fine, we'll line up with three tight ends and run right over you" counterpunch.
In this image, you see Penn State with eight (not nine) "linemen" plus one WR (not in view) one QB, and one RB. And Illinois counters with nine, count 'em, NINE, players in the box:
I don't think Penn State ever bunched like this against the Barge. This left a single safety and a single corner on the WR. But that was fine because on third and two it's quite likely they're running this.
Which they did. Which we swallowed up:
Man, I could watch that all day. In case you missed it, that's the Illinois defense swallowing up Penn State.
This play was just a lesson in "take the lineman across from you and shove him into the ballcarrier." Watch Keith Randolph (88). Straight into the ballcarrier. Watch Roderick Perry (96). Starts right, ballcarrier is left, drives his guy back left and right into him. And then watch Khalan Tolson (45). Holds off the tight end with his left arm, drifts to the hole, face-to-face with the tailback.
Beautiful.
Holy Hell Zach Barlev
I tweeted this (well, these two tweets) in the first quarter:
I don't know why I capitalized all of that so I guess that just means from now on his name is Holy Hell Zach Barlev.

— Robert Rosenthal (@ALionEye) October 23, 2021
This was the play I was referencing. Another Barge Package play, Barlev is lined up at left tackle with a tight end off his shoulder. And keep in mind - this is Barlev's very first college football game. He's a true freshman and had yet to appear in a game this season.
On the snap, Barlev has the task of clearing out D'Von Ellies, a third-year defensive tackle. Ellies was a 4-star, the #112 player in the 2019 class, and picked Penn State from a final three of PSU, Ohio State, and USC.
Here's Barlev making contact with Ellies.
Barlev and Jack Badovinac team up to send Ellies backwards. But Badovinac is chipping here to get to the linebacker, so now that he's off balance, it's up to Barlev to clear him out.
This will show much better on the gif below, but Barlev has him driven back several yards and Ellies spins inside. This gives Josh McCray a wide open lane.
And there's Barlev, still sealing off Ellies. It's enough that it allows McCray to cut inside of the defensive back charging forward.
And as McCray spins out of that tackle and looks for more, there's Barlev, still engaged with Ellies.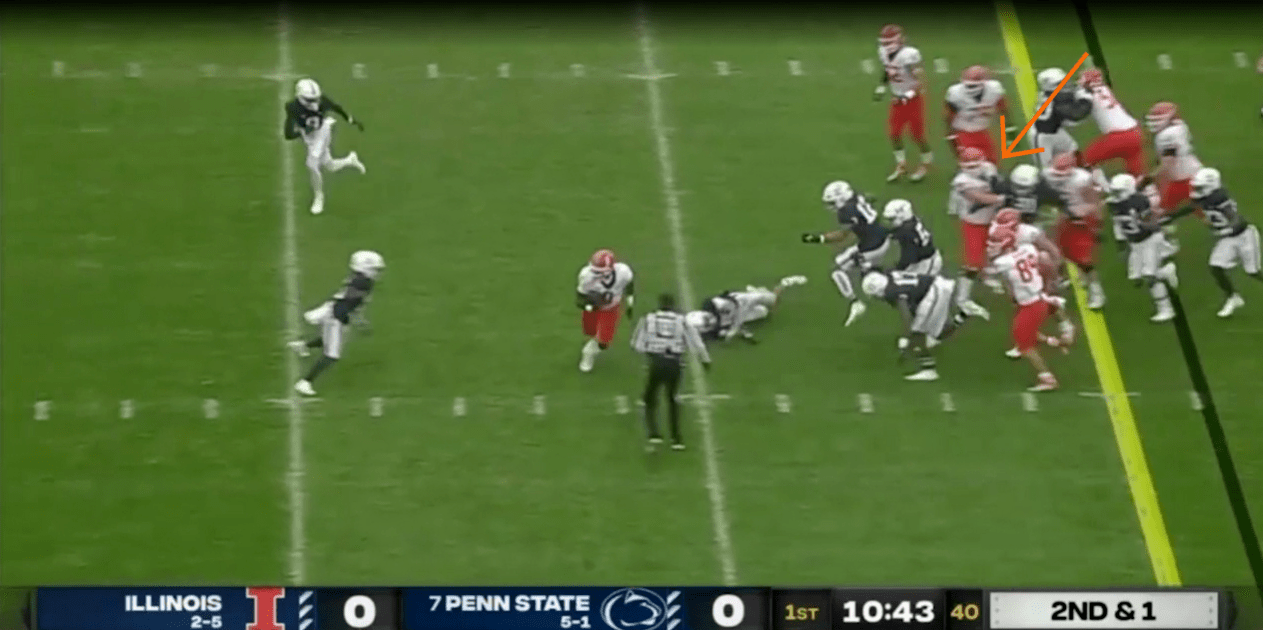 Here's the full play. I'm right about on that yard line up in the pressbox (on the side where the camera was), so this is why I tweeted "Holy Hell Zach Barlev." Watching the play live, all I saw was 68 taking his guy and curling him inside like his swinging open a gate to let the horses out:
One game and I'm already to start talking about Barlev challenging for one of the starting spots next season.
Not As Bad As It Looks
After the near-interception in the first half, I saw a fair bit of "three Illini defenders and not one of them can come up with the interception" on Twitter. That's not my take on that play. Let's talk about it.
Here's where Quan Martin is lined up on the snap.
Rod Perry beats his man and is bearing down on Sean Clifford, causing the Penn State QB to release the ball early (and without much on it):
So now it's floating right towards Quan Martin. But here's the thing. With a floater like that, it's always an advantage for the guy running into the play, not the guy standing there waiting for the ball to get there.
Just think of the Kerby Joseph interception against Wisconsin. That ball was wildly under-thrown by Graham Mertz. The Wisconsin WR threw on the brakes and was waiting for the ball to get there when Kerby came flying in to pick it off in front of him.
That's the same thing I see here. Quan spots the ball...
...but he can't really do anything besides slow down and wait for it as Dotson (arrow) is ready to come in and snag it.
And, just like Kerby Joseph against Wisconsin, that's exactly what Dotson does:
Quan makes a valiant effort trying to wrestle the ball away, but it's a big gain for Penn State.
Here's the full play. Eddie Smith (8) isn't going to get there. Kerby Joseph (25) is on his way but isn't going to get to that spot (and even if he was, you don't want him flying in and breaking up a sure interception for his teammate). So it's going to come down to Martin vs. Dotson, and the guy running into the play is always going to have an advantage over the guy already there trying to slam on the breaks.
That's one of those where you wish it would have been a good throw. Quan would have picked it off.
Confusion
The very next play was the only Penn State touchdown of the day. And watching it on tape, I don't think our defense had the play call. I think it was a busted play where some guys were running one coverage and some were running a different coverage.
As the defense lines up, two defensive linemen are talking to each other, Tarique Barnes is yelling something out, defensive backs are looking at the sideline, and there just seems to be general confusion.
Just before Penn State snaps it, Tarique Barnes and Sydney Brown seem to be having a conversation about the play call.
On the snap, both safeties then head down hill. Brown is blitzing off the edge, and Kerby Joseph is charging forward. This means there's zero safety help and Eddie Smith is on an island with zero help.
And, uh, that doesn't go very well for Eddie Smith.
But look at that field right there. There's just no way everyone was on the same page. With Syd blitzing, you'd think Kerby would be in center field. Just seems like the one PSU touchdown came on a play where some guys were running one play call and some were running another.
Speaking Of Defense
Someone asked me about Tolson and "outside linebacker" this week and I wanted to try to clarify that. OLB is what we call our defensive ends now (Owen Carney is now an "outside linebacker"), and yes, Khalan Tolson was playing some in that spot in this game. But he hasn't stopped practicing with Andy Buh and moved over to Kevin Kane's room (at least I don't think he has). It's just some of the flexibility built into this defense.
I had planned to go deep on this section and compare it to some of the stuff I wrote in the spring, but then this article became impossibly long so I'll just go with the cliff notes. Here's what I mean by "flexibility".
In the spring game we stayed in what I was calling a 5-2 defense. Five defensive linemen - LOLB-LDL-NT-RDL-ROLB - with the two OLB's standing up instead of putting their hand in the dirt. But when I made my depth charts over the summer, I added a 12th position that I called "left linebacker". And it was more or less for this exact purpose (the way Tolson is being used here). That 12th position on my depth chart was trying to answer the question "if they were to use one of the inside linebackers in one of those OLB spots, what players would be in the rotation there?"
This won't be exact here - show this to the defensive coaches and they'd probably laugh at my nomenclature - but I think this formation (which was used a lot on Saturday) was a flexible "if we move Tolson up to make him that fifth "lineman" then we can sometimes move Sydney Brown up and make him the 'weakside linebacker'."
Like this:
This is the spring game defense, more or less. But it's not two of the OLB's (Carney and Gay or Carney and Coleman) playing together. Tolson becomes the LOLB (this was my "LLB" position on the depth charts I put together this summer), Brown walks up to become the de facto WLB, and this is a simple 5-2-4 defense. Then you can drop one of the three defensive linemen, bring Carney or Gay back on, Tolson goes back to WLB, Syd goes back to safety, and you're back in the base defense we've been playing most of the season.
I feel like I didn't explain that well because I tried to shorten my thoughts. And yes, those are the shortened thoughts. Moving on.
Bonus Yards
The play that stuck out on film that I didn't really remember from Saturday was the Chase Brown second-down run in the red zone just before we scored our one touchdown. He didn't get the first down, but he did get within two yards of the first down which allowed for a QB Sneak on third down to pick up the first. And then Chase Brown scored on the next play.
Why was this such a big play? Because if he doesn't fight for these three yards, we would have had third and five and would have likely thrown it on third down. Given our passing game on Saturday, that would have meant what - 80% chance we wouldn't convert and would have had to kick the field goal?
The thing I'm referencing was quite simple. Chase Brown was wrapped up here:
And the two Penn State defenders here (blue arrows) don't really try to help at all. He's wrapped up (orange arrow - you can see him behind Tip Reiman) and headed to the ground.
But wait, how does he then end up at the 4, making it third and two, not third and five, meaning we could sneak it on the next play?
Here's how:
What a move. Spins, stays off the ground enough to surf the guy tackling him all the way to the four.
Oh, and it was awful nice of #1 to hop out of the way. Wouldn't want him to get hurt or anything. You know, like #12 did by standing and watching the play while Chase Brown spun and dove underneath him.
Extra effort gets three more yards. Sneak, first down, touchdown, 10-7.
Speaking Of "Chase Brown" And "Effort"
After Penn State missed the field goal in the third quarter (they took over at the 25 after the strip sack but couldn't put points on the board), I tweeted the following:
And I would also like to propose the name "Chase Brown Chasedown" for this play.

— Robert Rosenthal (@ALionEye) October 23, 2021
Here's that play. Sitkowski fumbles and Brown knows what he has to do:
Brisker has the ball and is headed for the endzone with someone on his tail:
And Brown drags Brisker to the ground at the 25:
Just a simple thing I wanted to point out. If Chase doesn't chase him down, Penn State goes up 17-7 at that point. And then not only do they not go up 17-7, they don't even go up 13-7 because they missed the field goal.
Big play.
Speaking Of "Chase Brown" and "Fumbles"
We were very, very fortunate to get the "forward progress stopped" call in the first quarter. I couldn't hear the official up in the pressbox, so at first I thought they gave Illinois the ball because they ruled that Brown's knee was down. The ruling was that forward progress was determined to be "stopped" and the ball remained in Illinois' possession. Even more points off the board for Penn State.
And yes, they were points. Ball was clearly out before Brown's knee or elbow went down:
Whew.
Speaking Of Whew
We also got very fortunate that the officials didn't call the late hit on Keith Randolph. But it was more the "officials couldn't see the play" luck than it was "officials didn't want to call it".
Here's the play. Clear hold on Penn State:
And the official is all over it. Grabs his flag and throws it.
Clifford scrambles forward and then tosses a pass at Dotson's feet. Two things to notice here. One, the umpire, with Clifford running towards him, is getting out of the way. And two, Keith Randolph is lining up Sean Clifford.
So at the moment when Randolph hits Clifford, where is the umpire looking? To see if the pass was completed. Can the Center Judge see the late hit? I think he's screened out by Rod Perry and the two Penn State linemen. Can the referee see it? Probably, but he might be screened out by 79.
We were quite fortunate here.
Smallest Guy On The Field
I still can't get over Isaiah Williams scoring in the 8th overtime when Penn State had it played perfectly. Let me just show you the same play twice - once in the first half when IW gained zero yards and then in the 8th overtime when Williams somehow scored.
Here's the play in the first quarter:
And here's the same play in overtime:
I'd argue that Penn State played it better in overtime. First half: zero yards. Overtime, somehow: three yards.
Speaking Of The 8th Overtime
Ready for some breaking news?
BREAKING: I don't think Penn State scored in the 8th overtime. I think Illinois won this in eight overtimes, not nine.
Here's what I see. As Noah Cain dives for the game-tying conversion, you can first spot his knee here. Clearly not on the ground yet but headed towards the ground. You can see the white pants with the stripe and the blue knee headed towards the ground:
I made this screencap at the moment his knee hits the ground. Notice that the ball is not yet over the goal line:
I guess the arrow there is kind of pointing at the offensive lineman's leg. Directly behind that is Cain's knee hitting the ground. And the orange arrow shows the ball not yet across.
Here's the best I can do to show you what I see. On the replay you can tell when his knee hits the ground because the next motion is a pivot from that knee as his body stretches forward. I made a gif of those two frames (going back and forth) to show A) his leg pivoting off his knee and B) the ball not yet across the goal line.
Again, look at the leg - blue knee is down, white pant leg with blue stripe is pivoting forward - and then look at the ball. Not across the goal line yet.
I'm so very glad we eventually won. You should be glad we eventually won. Because if we hadn't won, I wouldn't have tweeted about anything besides this play for weeks.
Speaking Of Winning
One last thing I noticed while watching the game. I had forgotten that Penn State called a timeout just before we converted the 2-pt conversion in the 9th OT. They rushed a guy on, set up in their defense, and then James Franklin called timeout to talk about it.
We came out in the same formation after the timeout (even though we had shown that formation before they took the timeout). And I'm wondering if Penn State made a slight defensive adjustment during that timeout. I believe they did, and I think it might have won us the game.
Here's the alignment before the timeout. Notice how this guy is lined up over Luke Ford on the strong side of the formation.
When they come back out after the timeout, he's lined up on the weak side.
Go look at both images again. See the hole up top in the first one? That's the hole he fills in the second one. My guess - although I don't know - is that this adjustment was made in the huddle.
And then he shifts to his right when Donny goes in motion.
And then Casey fills a void in the endzone where this guy might have ended up.
And then Casey grabs the winning catch with his white gloves.
And Illinois beat #7 Penn State on the road in 9 overtimes.